Low Inventory of Homes for Sale in Dallas Fort Worth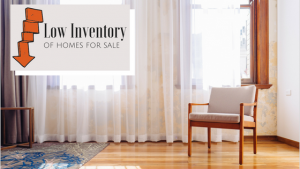 We are experiencing very low inventory of homes for sale in the Dallas Fort Worth metroplex right now.
In many areas, we only have 1.5 months worth of inventory.
😳😳😳😳😳😳
What does that mean and why do homeowners care?
What it means is that if no other homes come on the market starting today, with the current number of home buyers we have writing offers on homes in the MLS, it would take only one and a half months until all the homes would be sold and we would have zero homes for sale in our area.
Can you believe that? 👆🏻👆🏻👆🏻👆🏻👆🏻👆🏻👆🏻👆🏻
A balanced market is typically 6 months worth of inventory and we are 1.5 making it a HUGE advantage for Home SELLERS.
But this won't be the case for long! ⏰⏰⏰⏰⏰⏰⏰⏰⏰
A SHIFT has already started in our area. We are seeing a rise in interest rates and more homes are starting to hit the market.
So I have a question for you?
A question that could save someone you know THOUSANDS! Who do you know that would benefit from selling their home in a time where they have hardly any competition? Someone who NEEDS to SELL NOW before the market shifts to a Buyer's Market?
Share this article with them and let them know I can help. My goal is to help as many people that would like to move as possible take advantage of this Seller's Market.